Whether you are suffering from an injury, illness, disability or want to increase mobility diminished by ageing, our physiotherapists are qualified, trained and committed to helping you achieve lasting results. We also provide on the spot claiming for people with private health insurance extras cover. This means you only have to pay a gap payment. To consult with a qualified physiotherapist call us today.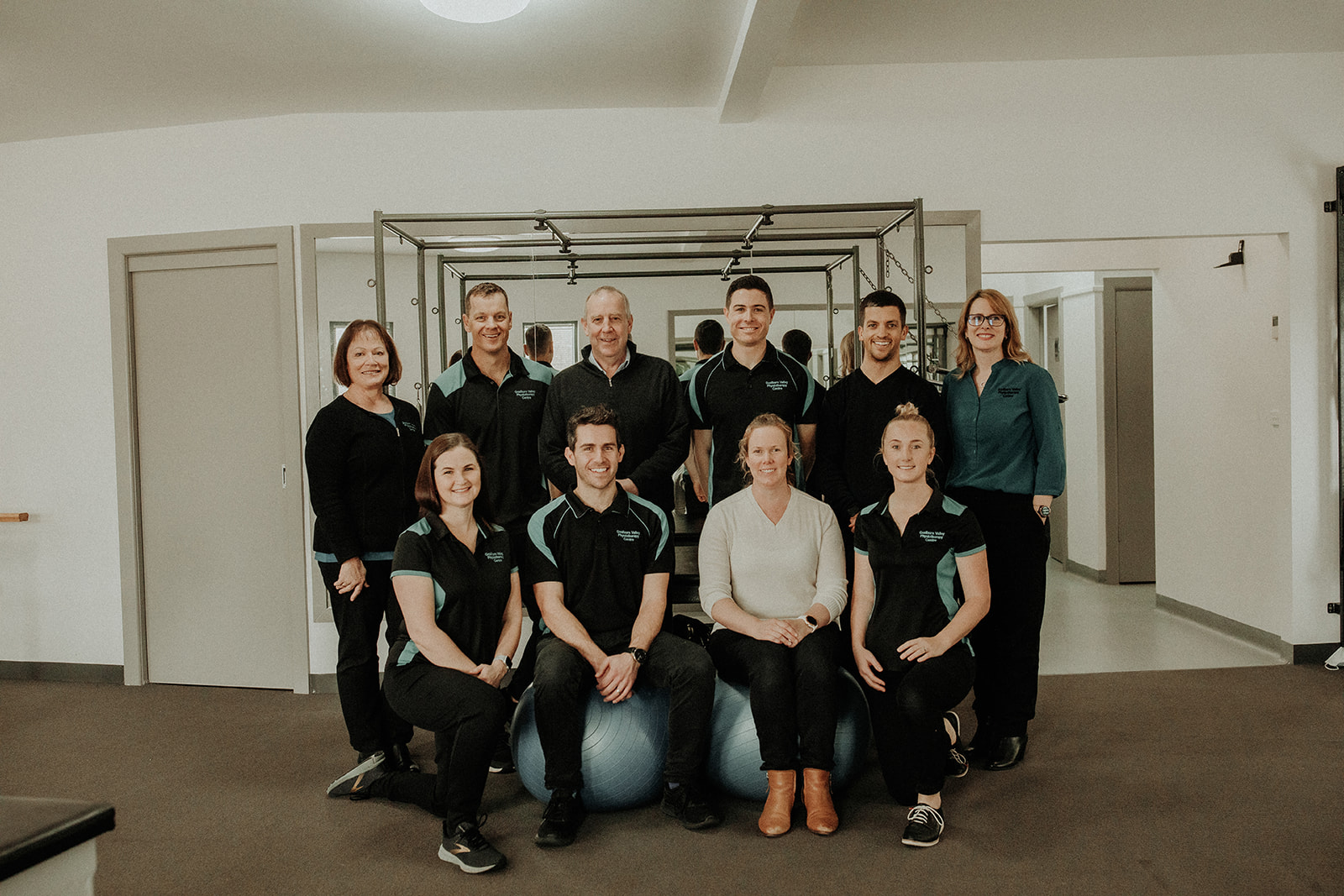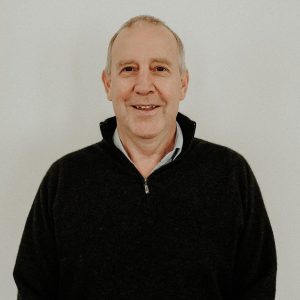 Bachelor of Science, Bachelor of Applied Science in Physiotherapy and Graduate Diploma in Manipulative Therapy
Jim started his Physiotherapy career at the GV Base Hospital after graduating where he then transferred to the Ballarat Base Hospital gaining experience in all aspects of Physiotherapy.
Jim returned to Melbourne to complete a post graduate Manipulative Therapy course giving him good groundings to open Goulburn Valley Physiotherapy Centre with the assistance of Diane Ingram in 1986.
Jim has seen a great diversity of problems which has made working at GV Physiotherapy Centre both interesting and enjoyable. Jim has enjoyed his heavy involvement in The Murray Bushranger program from its inception with a total of 17 years assisting aspiring footballers locally and 6 years as the Victorian Country Under 18 team physiotherapist where he was able to assist many young footballers develop into AFL players while treating their injuries.
Jim enjoys golfing and bike riding at current but in the past has also been a cricketer, footballer, played tennis and competed in athletics.
Jim works exclusively from our Skene Street clinic in Shepparton with limited availability.
Bachelor of Physiotherapy
Aaron has been working with GV Physiotherapy Centre since 2006. 
Aaron enjoys working with lower limb sporting injuries having worked alongside many local sporting clubs and elite sporting programs.
Aaron is married with two boys and outside of work life enjoys playing tennis, having a hit of golf and trying his luck at fishing.
Aaron works exclusively out of our Skene Street clinic in Shepparton and is ready to assist you with no referral necessary.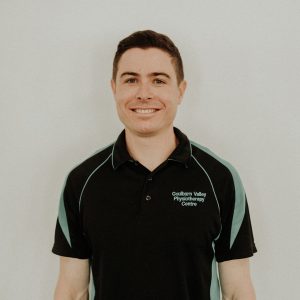 Bachelor of Physiotherapy with Honours, Master of Musculoskeletal Physiotherapy
Brenton is a titled Musculoskeletal Physiotherapist having completed his masters degree in the treatment of muscle and joint conditions in addition to his undergraduate Physiotherapy training.
Brenton has been working with the people of Shepparton, Numurkah and surrounds since 2007, initially in public health before moving into private practice. Brenton has particular interest in lower limb biomechanics and the role of load and strength building to rehabilitate and prevent injury.
Outside of work Brenton enjoys spending time with his young family, playing tennis and spending time on the ski slopes.
Brenton works across our three sites at our Skene Street clinic, Aqua Moves Shepparton and in Numurkah at the Old Courthouse and is ready to help you with no referral necessary.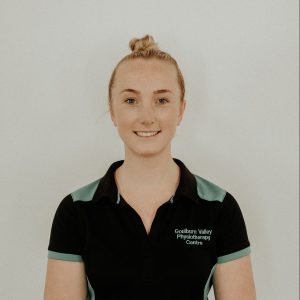 Bachelor of Exercise Science, Master of Physiotherapy Practice
Emily graduated with a Bachelor of Exercise Science and Masters of Physiotherapy Practice and has been working with our team of Physiotherapists since 2018.
Emily has particular interest in assisting with sports related injuries and rehabilitation following surgery as well as working with women to improve their pain and function and empower them to manage their overall health and wellness. Emily enjoys using both manual therapies together with exercise prescription to ensure patients have sustainable long term improvement of their condition.
Outside of work Emily enjoys running, playing netball and tennis as well as getting outdoors.
Emily works from both our Skene Street clinic in Shepparton as well as in Numurkah at the Old Courthouse with no referral required for consultations.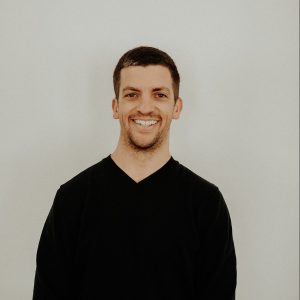 Bachelor of Health Science, Master of Physiotherapy Practice
Ben graduated from La Trobe University in 2014 with a Masters of Physiotherapy Practice.
He uses a combination of exercise and manual therapy techniques when treating patients.
Ben has a special interest in sports injuries, with a lot of international experience having worked with, several professional athletes in the past.
Ben holds two post graduate certificates in Dry Needling.
Ben works exclusively from our Skene street clinic in Shepparton and is available to assist you with no referral necessary.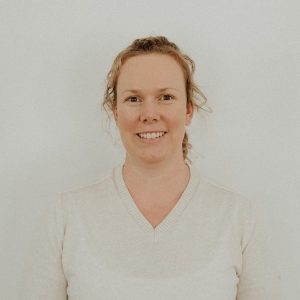 Bachelor of Physiotherapy, Graduate Certificate in Paediatric Physiotherapy
Andrea graduated with a Bachelor of Physiotherapy from Charles Sturt University and has been working in the Goulburn Valley since 2007.
 Andrea has completed her post-graduate certificate in Physiotherapy (Paediatrics) in 2008 and has been working in the paediatric field since then. Andrea currently works part-time for both the Victorian Paediatric Rehabilitation Service at Goulburn Valley Health and with us at GV Physiotherapy Centre.
Outside of work Andrea enjoys playing tennis and going for bike rides with her three young children.
Andrea is available to see infants and children with no referral necessary from our Skene Street Clinic with limited availability.
Bachelor of Physiotherapy
Sally graduated with her Bachelor of Physiotherapy degree in 2001. 
Sally has a passion for working with the elderly population, in particular balance and mobility disorders. Sally also has further training and experience in treating vestibular disorders, vertigo and dizziness. Sally also enjoys working with post-surgical clients in their home.
Outside of work she enjoys spending time with her family, playing tennis, attending gym and dance classes.
Sally works from the Skene Street clinic in Shepparton and completes home visits with no referral necessary for consultation.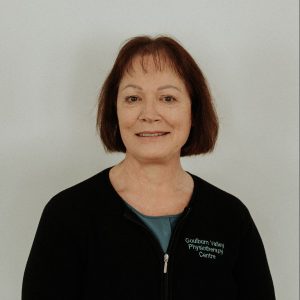 Reception and Business Support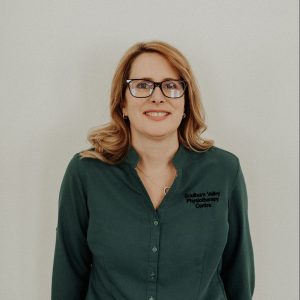 Reception and Business Support
Physiotherapy Services provided
Assist with pain relief, injuries and rehabilitation
Manual therapies
Onsite rehabilitation
Hydrotherapy
Group classes
Private clients
National Disability Insurance Scheme
Work Cover
Transport Accident Commission
Enhanced Primary Care Plans
Special approach to every client!
Call our qualified physiotherapists today on 03 5821 7486 to make an appointment.